We celebrated the wedding of two our church family recently at St James - Chris and Vicky. Thank you to them, and to Doherty Photography for use of their photos.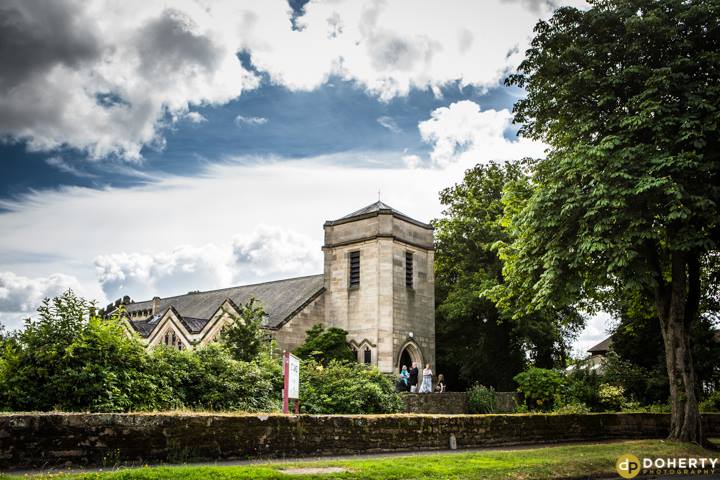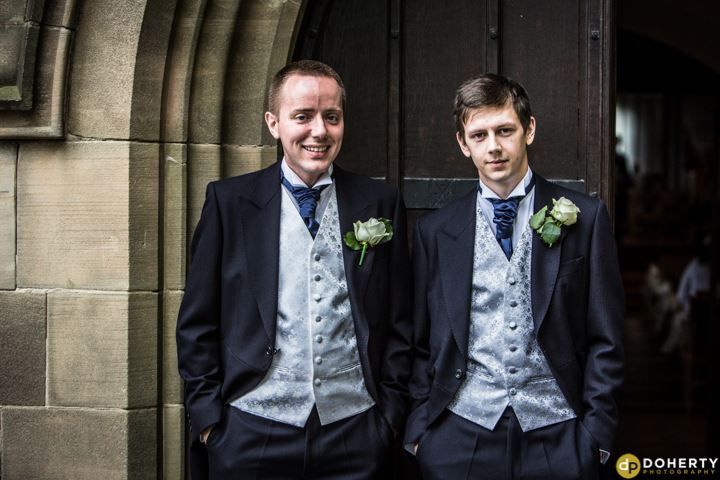 WHO CAN MARRY AT ST. JAMES?
Couples are entitled to marry in their local Church of England parish church where
one of them has ever lived in the parish for six months or more;
one of them has at any time regularly attended public worship in the parish for six months or more;
one of their parents has lived in the parish for six months or more in their child's lifetime;
one of them was baptised or prepared for confirmation in the parish;
one of their parents has regularly attended public worship there for six months or more in their child's lifetime;
their parents or grandparents were married in the parish.
To marry in any other parish requires a special licence or six months of regular attendance followed by entry on the local church electoral roll. In addition there is now a new law, 'Right of Residency' which makes it just as easy for couples to marry in a church where they have a family or other special connection, even if they don't live there.
Come and discuss this with us – it can be confusing!

LEGAL PRELIMINARIES TO MARRIAGE – WHAT ARE BANNS?
Banns are an announcement of your intention to marry and a chance for anyone to put forward a reason why the marriage may not lawfully take place.
Banns need to be read in the parish where each of you lives as well as the church in which you are to be married. The onus is on you to arrange this. After banns are read the church will issue a Banns Certificate which we must see before we can marry you.
You must have your banns read out in church for three Sundays during the three months before the wedding. This is often done over three consecutive Sundays but does not have to be. At St James banns are read on the first three Sundays of the month two months before your wedding e.g. for a wedding in July banns will be read in May.
I'M DIVORCED. CAN I STILL GET MARRIED IN CHURCH?
There may be a way forward for you to be married again in church. The Church of England agreed in 2002 that divorced people could remarry in church under certain circumstances. We believe that marriage is for life, but also recognise that sadly, some marriages do fail.
If you want to Speak to our Vicar about your situation please ring the Church Office to make an appointment. He will want to talk to you frankly about your past and your hopes for the future and will let you know whether we can remarry you.
BOOKING
For enquiries telephone the Parish Office 024 7669 2299.
We can answer any queries and let you know what dates are available.
When you have spoken to us and confirmed a date, we will contact you to arrange a meeting to complete the necessary paperwork. You will need to bring with you proof of identity and address.
PREPARATION
Early each year we hold a Marriage Preparation Course. This is an excellent opportunity to reflect before the event – here are some comments after a recent course.
"I enjoyed the course and found it most useful and relevant…."
"Informative – i.e. considering each others needs. Useful advice".
"Informal – made to feel at ease".
"….good course to share other peoples thoughts, ideas and views on Marriage and the Wedding Ceremony."
PLANNING
We may already have met with you earlier, but at least three months before your wedding day, we will contact you to arrange a session for us to plan the service together.
Before that session give some thought to things like the music you'd like to come in and to out to, two or three hymns, a Bible reading and so on.
PAYMENT OF FEES
For the latest fees contact the St James parish office on 02476 692299 . After the planning meeting, when we will have discussed your requirements, you will be sent an invoice, which will be due for payment at least two weeks before your wedding date.
PASSPORT
If you are going abroad on honeymoon, it is possible for the wife to get a passport in her new name postdated to the date of the wedding. Ask at a Post Office for forms PD 1, 2 and 3, and also form C if she has an existing current passport which simply needs the name changing. Bring these forms to the parish office for signature.
REHEARSAL
At the planning session we will fix a date for a rehearsal in Church, which should be attended by everyone who has a part in the service; you two, best man, bridesmaids, and whoever is giving the bride away. For a Saturday wedding, we normally try to do this on the Thursday before the wedding, in the early evening. It takes about half an hour, and we will walk through the service, and settle any last minute details. We will also take the Banns certificate(s) from the other churches and Video recording licence (if you decide to have one).
THE GREAT DAY
It probably seems a long way off now, but it will creep up on you. Prepare early and get ahead. As far as the service is concerned don't worry. If the slightest thing is bothering you, ring up and ask, rather than stewing on it. And most of all enjoy the day, it is YOUR day and the start of your married life together.
http://www.yourchurchwedding.org/youre-welcome/marriage-after-divorce.aspx